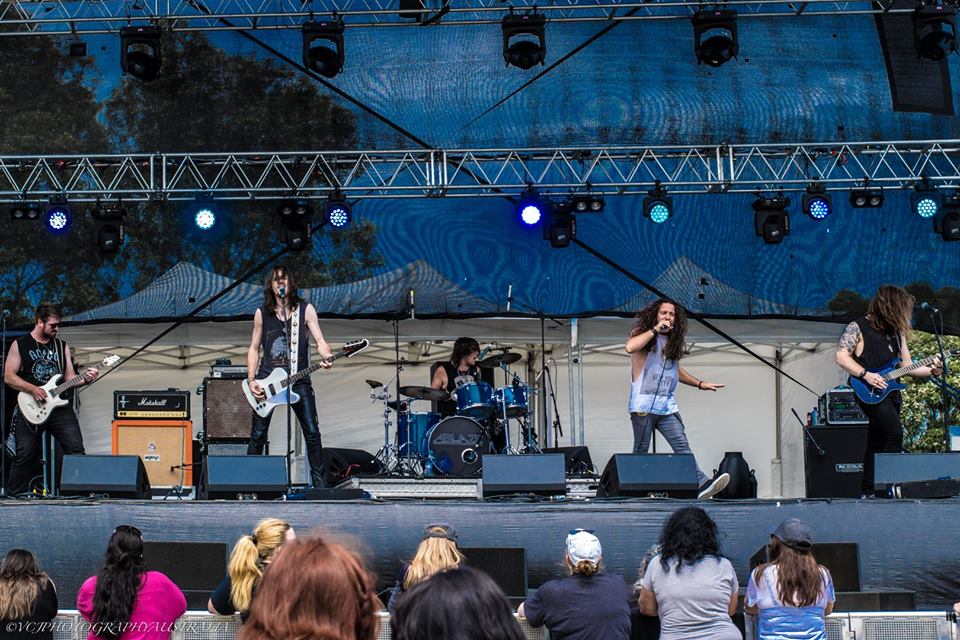 Ablaze was originally formed back in 2010 by a group of mates, fresh out of high school and wanting to belt out some riff-driven Aussie pub rock'n'roll. After jamming on covers for a couple of weeks, the young blokes quickly became bored of playing other people's songs, and the desire to write originals grew quickly. Once they started, they didn't stop, quickly pumping out a set's worth of material, scrubbing up their favourite old AC/DC and Screaming Jets covers and began cutting their teeth at any Open Mic night and Battle of the Bands that would take them.
Soon after, Ablaze began gigging hard around town, playing any and every stage they could. From Friday night pub gigs to local festivals, opening at dive bars to headlining the Espy Gershwin room, Ablaze did it all and more to hone their on-stage skills. They kept their writing muscles flexed too, pumping out song after song as they went.
Ablaze record their first single, 'The Hard Way', late in 2014 and both the track and accompanying film clip catapulted them onto the radar of the Australian music scene. Armed with a killer live show brimming with energy and a good soaking of beer and Jägermeister, Ablaze spent 2015 gigging hard around Melbourne, and by the end of the year they were back in the studio recording an EP. The 'No Turning Back' EP was released April 1st 2016 with a bang at the Elephant & Wheelbarrow, St. Kilda to a packed room, and with the trademark live show jumping to a new level, the EP and single 'Pick Your Poison' fuelled the band's first interstate tour encompassing Adelaide, several NSW shows and a whole swathe of regional and metro appearances as well, including supports for Electric Mary and The Screaming Jets.
2017 had seen Ablaze gigging locally, regionally and interstate almost non-stop for the first half of the year. This coincided with the release of the third single and video clip 'This Bitch Bites', backed up by a month-long residency at the world-famous Cherry Bar with some of Melbourne's finest rock acts. With another successful run of shows in the bag, Ablaze released a CD/DVD fan pack entitled 'Two's Up', which featured two tracks and a DVD featuring the premiere of 'AblazeTV', a rockumentary mini-series covering the bands history, filled with interviews, behind-the-scenes clips and lots of laughs. Not wanting to stay off the road for too long, this release came with a short five date tour across Victoria and New South Wales, including a show supporting Marky Ramone in Melbourne. By the end of 2017, Ablaze's debut album was written and ready to record.
Kicking 2018 off to a flying start, the band scored a spot on the 'Under the Southern Stars' festival line-up alongside famous rockers Jimmy Barnes, Richie Sambora, Orianthi, Diesel and more.  Following this the boys headed in to Lighthill Sound Recording in Riddells Creek to lay down the 12 track album 'No Chaser' under the watchful eyes of master producer and engineer Ricki Rae. Blood, sweat and tears went into every recording. The amazing Tony 'Jack the Bear' Mantz at Deluxe Mastering adding the icing on the cake with his exceptional mastering. By the end of this process Ablaze had laid down an album that exceeded all expectations. Not keen on stopping for long, the first single 'Just a Taste' was released mid-July and followed by an 11-date tour including shows in Victoria, New South Wales, and the band's first gigs in Tasmania and Canberra.In mid-October, 'No Chaser' was launched at Melbourne's Evelyn Hotel and the boys embarked on their second tour that year. Tearing up stages in Tasmania, SA, ACT, NSW and of course VIC, Ablaze hit the stage in every city and town they could, knocked back some beers, played some top-notch rock and roll, as well as getting to play alongside internationally renowned Aussie bands and good mates in Dead City Ruins and Massive on their own Australian tours.

As we come into 2019, Ablaze have announced the release of a second single from 'No Chaser,' accompanied by a new music video (and you guessed it, another tour) and a keen interest to tour internationally before the year is through. Keep an eye out, because this isn't something that you'll want to miss!